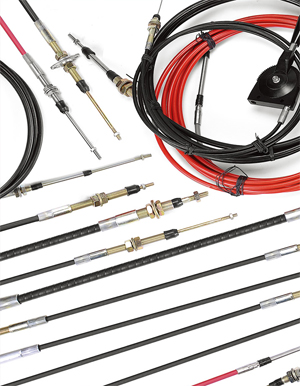 Company Profile(since 1987)
Yongkang Wholewin Control Cable Co.,Ltd is a technology driven company committed to pursuit of engineering excellence.We specializes in producing control cable assemblies and control levers,for automobile,heavy duty vehicle,marine,engineering/mining machinery,train and military etc.
Technical experience
We have well over 20 years' combined experience in the application,design,and manufacture of push-pull cables and mechanical,remote control systems.With well-established collaboration of competent subcontractors supplying us with components of the best quality.
Quality policy
As far as quality is cooncerned,we constantly strive for excellent products,strive to eliminate faults an early period of manufacture,and conduct strict material inspection entering warehouse.During production,technical standards are established in advance fore each procedure,inspections are carried out over all processes,and random inspection is undertaken for all key parts,with the whole batch discarded if any defects are found.
Customer
We take great pride in distinguishing ourselves from competitors through tenet of "quality first,customers uppermost,best service",to achieve total customer satisfaction by continual improvement.
Over 20 years' experience has given us the capacity to manufacture & develop products focusing on our customers' needs.In addition of the standard products,Wholewin Control Cable also produces specific products based on the client's request.
Our primary objective is the "on time" production of high quality products at a competitive price.
Advantage:
State-of-the-are mechanical remote bi-directional control partOf maximum performance,durable,compect,flexible,waterproofing and dustproofingWith our special technology in crimping end fittings,to avoid early damageEndure high temperature,high humidity,cold climate or heavy dustLength up to over 30m,still easy to move with minimum lost motion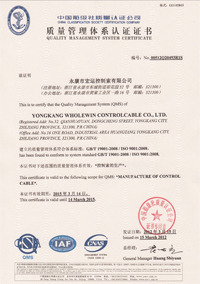 Cable Features:
1.Extremely low friction,small idle travel
2.High tension stregth,samll bending radius
3.Fit to various types of ends fittings
ISO 9001:2000 Certificate
Approved by
China Classification Society
No.:00509Q10622ROM